Nikita Vikhrev



M. jacula, a painfully common late summer-autumn species?

Jere Kahanpaa (Diptera.info)
Being very common, large and comparatively easy to identify Medetera jacula presents a good opportunity to observe Medetera behaviour.
During the period 2 August -15 September, 2006 I observed the life of Medetera jacula (= Medetera in text) on an old Salix alba growing on pasture near a small pond, Moscow region, near Dmitrov town, for a total of 30 hours.
Medetera was numerous on chosen trees during all periods of observation; often I could see 3-8 flies at once. In mid September Medetera suddenly disappeared; on 9 Sept they were still common; on 14 Sept I found only 3 specimens; on 15 Sept not one.
On the trunk they concentrate mostly between 0 and 1 m high, but some flies may be seen up to a height of 3 m. It seems that for Medetera it does not matter whether it is a sunny or shadowy part of trunk, but when the weather is rainy, they prefer (not exclusively) sites of dry bark. During rain I found more flies at a height of 1-2 m. Cold and rainy weather does not disturb Medetera activity. Also Medetera could be found on the grass around the tree. I have seen both sexes in approximately equal proportion. Medetera are active till deep twilight; once I even observed a hunting fly 15 minutes after astronomical sunset in cloudy evening.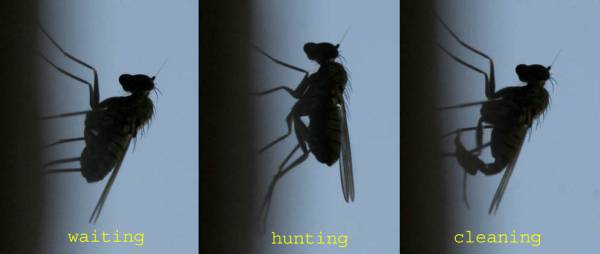 Activity
Most of the time Medetera sits motionless on the trunk, looking towards sky with abdomen down and head up. This position seems to be on one hand most ergonomic, on the other hand it gives highest possible field of view. Let it be called 'waiting' position.
When detecting the prey Medetera changes position into 'hunting' one, with the body parallel to the trunk. Thus Medetera is ready to attack or run after the prey along the trunk. If the prey stops moving, Medetera freezes in hunting position too and leaves freezing for 5-20 sec.
When eating the prey, the fly again uses waiting position. I very often observed the cleaning procedure immediately after feeding. Females in most cases regard head cleaning to be enough (fig. 1), males on the other hand seem to be more tidy, but they do not regard head cleaning of such importance, being much more concerned of hygiene of their genitalia.
For overnight they seem to use a special position with the body parallel and pressed to the bark.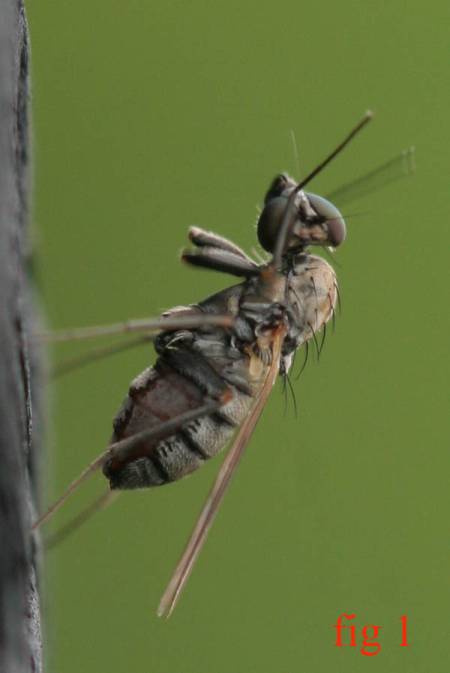 < - - - Please note: There are another three pages in this article! - - - >