Oviposition
Ovipositing habits are a mystery to me, but I think that a negative result has to be reported as well. I have often seen Medetera females with a fatty abdomen, especially at the end of August and September. Fig. 17 shows Medetera on 5x5mm paper and yellow eggs which I squeezed out of female's abdomen. The eggs are large enough that I hardly imagine I can overlook ovipositing I have been especially looking for.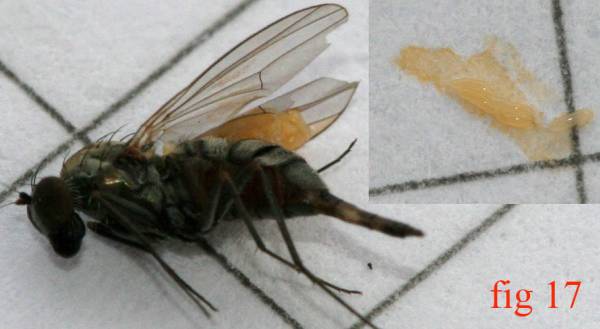 Besides large eggs there is another thing to consider. Medetera female has long ovipositor, and it is rather natural to suppose that it uses this ovipositor for ovipositing. I have observed Medetera with pulled out ovipositor 3 times. Female pull ovipositor out, massaging their abdomen by hind legs (fig. 18). If female stop this massage, ovipositor begins spontaneously pull in abdomen (and it seems to me that female has not possibility to pull it out without help of legs). An undisturbed female repeated this procedure 2-5 times. Still eggs-laying has never been recorded by me.


Medetera pallipes
Medetera pallipes is the second species I found on chosen trees. This much smaller and more timid species is more difficult to observe. The scant information I have is:
1. Medetera pallipes avoids a height of less than 0,5 m;
2. Medetera pallipes also use wing stroking as courtship (fig. 19) (**see also below).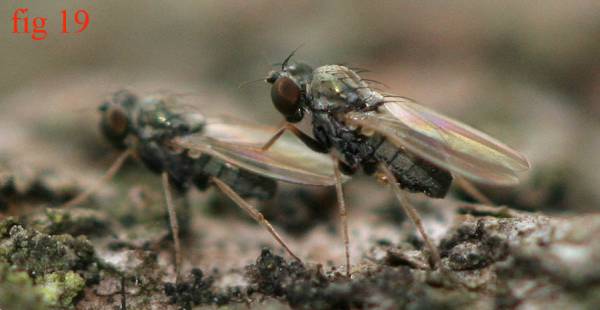 * Dolichopodidae feeding strategies
In total I have observed feeding in 5 different genera of Dolichopodidae. I have doubts that the common view of Dolichopodidae as predators which suck out their prey is really as common in Dolichopodidae.
Campsicnemus scambus was observed twice as a predator that really sucks out its prey. The prey (Collembola, Entomobryidae, Lepidocyrtinae) was large, sucking took 10 min and afterwards the empty skin of prey was discarded (fig. 20). Once it made an unsuccessful attempt to attack a large chironomid on the water surface (fig. 21).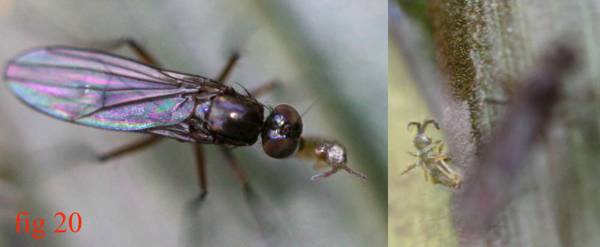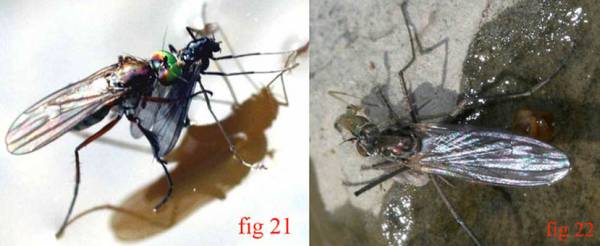 Hydrophorus praecox was observed sucking out a large chironomid (fig. 22).
Hydrophorus borealis was observed 7 times swallowing Oligochaeta (freshwater worms) (fig. 23-1). It is amazing that for catching worms Hydrophorus borealis put its head completely under water surface!
Hydrophorus borealis detected numerous and helpless aphids on silt, but never attacked them (fig. 23-2).


Liancalus virens was observed once swallowing some worm-shaped creatures (most probably Diptera larvae) in very same manner as Hydrophorus borealis.
Dolichopus sp.(1) was observed swallowing tiny Collembola (Sminthurides penicillifer (?), Sminthurididae) along with a good amount of water and silt (fig. 24).

Recent observations of another Dolichopus sp.(2) convince me that it acts exactly as hen walking in the yard and pecking invisible small objects (fig. 25). During such feeding a large (6-7 mm) Dolichopus sp. female did not pay any attention to the adult Collembola on the same leaf.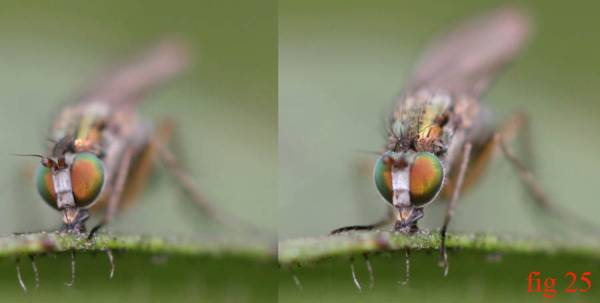 Thus, so far Campsicnemus scambus and Hydrophorus praecox appear really to use "suck strategy", but Medetera jacula, Liancalus virens, Hydrophorus borealis, Dolichopus sp.(1) and Dolichopus sp.(2) appear to use "swallow strategy".

** Medetera truncorum
During the period 20 -15 October, 2006 I observed the Medetera truncorum on an old Platanus orientalis and stone fence around it on city park of Adler, Sochi region, Russia, for a total of 4 hours.
1. All main characters of behavior of Medetera jacula are true for M. truncorum: waiting and hunting positions; cleaning; hunting habits; swallowing of prey; courtship, including male to male (fig. 26-2); lack of ovipositing observations.
2. Wing helicoptering looks rather different: wings during helicoptering almost lay on abdomen.
3. Liquid excrements were always whitish as shows Figure 26-1 (M. jucula ? always blackish).
4. Short list consisting of 5 preys is:

| | |
| --- | --- |
| Collembola, Symphypleona | 1 |
| Thysanoptera | 2 (fig. 26-3) |
| Diptera, Cecidomyiidae? | 1 |
| Coleoptera, larvae | 1 |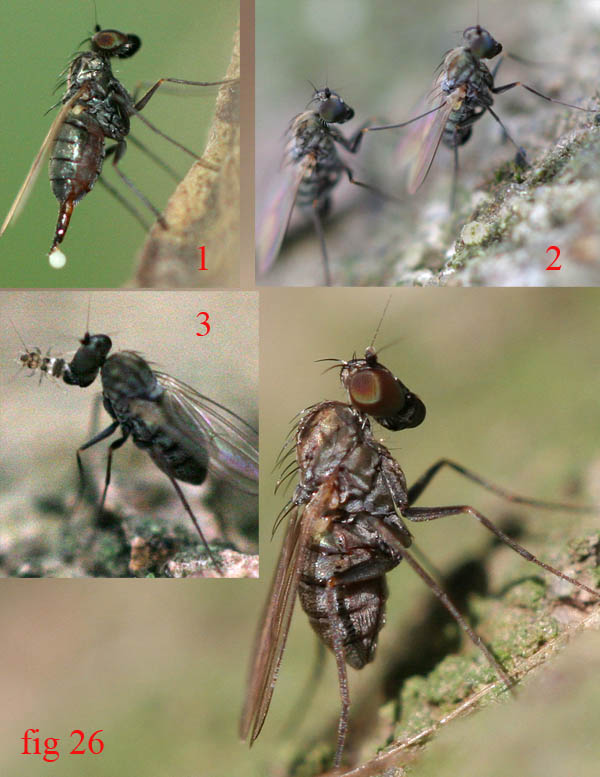 Acknowledgements
I am very grateful to Dr. Tony Irwin for his kindness to check the text (both as Dipterologist and English), his grate help in prey identification and a lot of priceless advises. I thank Dr. Igor Grichanov for his identifications of Medetera species.